Dr. Aubrey Ross is an American Veterinarian and a TV Actor. He made his first debut on the screen when he was featured on The Vet Life and its spinoff. The Television Programme is about three Veterinarians from Houston, including Aubrey Ross. The three of them opened up a practice known as Cy-Fair Animal Hospital.
In this article, we are going to be focussing on Dr. Ross.
Who is Dr. Aubrey Ross?
Dr. Aubrey was born and raised in Galena Park, Houston. At the age of five, he had already discovered his career. He wanted to be a veterinarian. With the support of his parents, he was given the responsibility of taking care of different animals such as horses, dogs, chickens, rabbits, etc. Aubrey went to Galena Park High School and graduated in 1998.
He was then lucky enough to get a half scholarship to Langston University. In his freshman year, he was very active in basketball. After all, it was a basketball scholarship. However, after realizing what his true calling was, he changed course and was even luckier to be granted a full scholarship to study animal science. Aubrey later went to seek further studies in Tuskegee University- School of Veterinary Medicine and finally graduated in 2007 with a DVM.
Dr. Aubrey Ross Wiki Biography.
After graduating, Dr. Aubrey worked in different veterinaries. As a result, he gained more experience. For three years, he worked in Pebble-Maryland Animal Hospital. At Banfield Pet Hospital, he worked as the lead veterinarian. Dr. Aubrey Ross got a chance to practice his leadership and managerial skills. Dr. Aubrey once volunteered at 'Heaven Can Wait' Animal Shelter. In his time there, he helped with the Cat Programme and provided his veterinarian skills.
In 2013, he moved back to his hometown and opened up an Animal Practice called Cy-Fair Animal Hospital. He co-owns the practice with his two friends: Michael Lavigne and Diarra Blue.
Thanks to Dr. Diarra's sister, who is a TV Producer, the three friends were given their show on Animal Planet Network.
The Vet Life premiered in June 2016, and so far, it has six seasons. The program not only shows us how they run and manage their practice, but it also shows us the families of the three veterinarians.
Net Worth.
Dr. Aubrey Ross' net worth is still Under Review. However, we can be sure that he has been saving up in all his years as a veterinarian. Dr. Aubrey being a private person, has not disclosed details of his salary income. According to various sources, best-paid veterinarians earn about $162k while the low-paid make about $56k.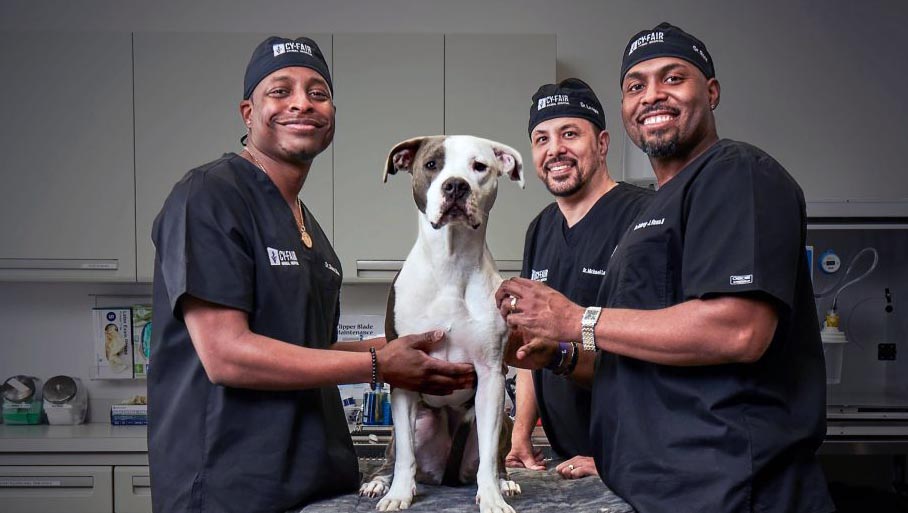 Wife and Children.
Dr. Aubrey Ross is currently married to Tauvia Ross, and together they have children. However, Aubrey has not disclosed any further information. The TV Programme is the only place we have the chance to see the wife and kids of Dr. Aubrey since his social media account is private.
Dr. Aubrey Ross Wiki-Facts.
| | |
| --- | --- |
| Full name | Aubrey J Ross |
| Age | 40 years old |
| Date of Birth | 7th February 1980 |
| Place of Birth | Houston, Texas, United States |
| Profession | Veterinarian, TV Actor |
| Net worth | Under Review |
| Wife | Tauvia Ross |
| Kids | Unknown |
| Nationality | American |
| Ethnicity | African American |
| Zodiac Sign | Aquarius |
| Parents | Unknown |
Originally posted on July 1, 2020 @ 2:40 am