Jeff Young is a TV star and veterinary officer who has about three decades of experience in the field. Dr. Young is the founder of Planned Pethood Plus, which is an animal clinic he set up along the Rocky Mountains of Colorado. He came into limelight after starring the TV show, Dr. Jeff: Rocky Mountain Vet.
Some of the most notable cases his team has handled include treating a stray dog that had been hit by a car and caring for a beagle injured by another dog. Journey through Dr. Young's biography as we take a look at some interesting facts about his life.
Dr. Jeff Young Wikipedia.
It is fair to say that he has led a fascinating life. As a child, he spent most of his time with his mother, Esther Stevens, and her second husband, who was a military man. Because of his step-father's job in the military, Dr. Jeff and the rest of the family moved quite frequently. This is because military men are re-assigned different posts regularly.
In some rare instances, they even took their families abroad with them. When school was out for summer, Jeff Young would visit his biological father at their family's dairy ranch. Here, Jeff got the chance to interact with several domesticated animals. The country setting meant that he joined the rest of the clan as they churned butter and tended to their crops.
At just eight years old, Jeff had decided that he was going to be a vet. It came after the tragic death of his beloved pet dog. From then on, he tried to help as many injured animals as he could. Sometimes he even took them home! Jeff is a former student at Rantoul High School.
After graduating, he pursued a degree in veterinary medicine at Colorado State University. Once he was done with school, Dr. Jeff Young took on a new challenge as an animal welfare officer in Colorado. A year after he finished college, Jeff finally set up Planned Pethood Plus. At its core, the clinic functioned to help animals rather than make money.
He also strived to promote the spaying and neutering of pets to manage the population of cats and dogs. This helps to reduce the number of dogs and cats sent to shelters. Dr. Jeff Young's Wikipedia page doesn't exist.
Age and DOB.
Dr. Jeff Young was born on the 14th of April 1956 in Indiana. Presently, he is 64-years old. Being an Aries, Jeff's caring and warm personality shine through in work he does at his clinic. He offers pet care services even to those who are not able to afford it.
His first wife, marriage, and divorce.
Dr. Jeff Young's first wife was a woman named Deb Burns. She is a native of Fort Collins, Colorado. She graduated from Rantoul High around the same time her ex-husband did. They met while they were both students at the institution. Deb and Jeff tied the knot sometime after they were both done with school.
They stayed married for several years, having three children in the process. One of their oldest children is daughter Melody Obuobisa, who works Planned Pethood as a practice manager. After Dr. Young and Deb split up, both of them moved on with life. Deb remarried again on the 19th of April 2018. Presently, Deb works at Anheuser-Busch. Her company is one of America's best breweries.
Dr. Jeff Young is now married to wife Petra Young Mickova.
Dr. Young met his second wife, Petra, while the latter was at veterinary school back in 2010. Petra had moved to the USA from her native Slovakia. After she finished school, Petra found herself working at Planned Pethood. At the time, Petra was a rookie who did not have a lot of experience. Gradually, however, Petra's prowess and calm demeanor shone through.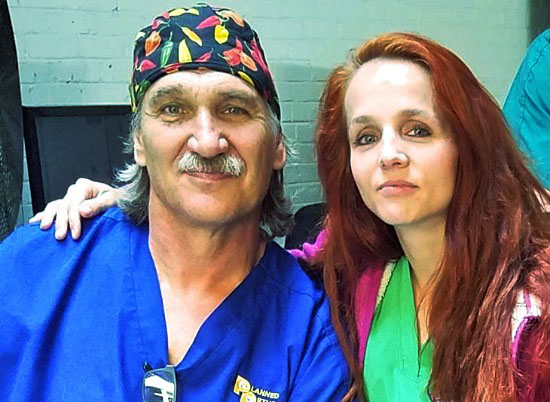 Over time, she also grew much closer to Dr. Jeff. They started dated shortly after. It was a match made in heaven as the two shared a lot of common interest. The most obvious being the love for animals and the desire to provide affordable pet care services.
By 2014, Petra and Jeff were walking down the aisle. Six years later and they are still husband and wife. Their partnership extends to their professional life as they continue to manage their clinic together.
Dr. Jeff Young's Death rumor because of His cancer.
Two years after remarriage, Dr. Jeff Young faced a life-threatening diagnosis. His doctor told him that he had B-cell Lymphoma. Upon further examination, they found a cancerous 8cm lump in his body. To save his life, Jeff had to endure several rounds of chemotherapy to eradicate cancer completely.
The treatment also meant that he lost his signature long hair. Though that was a small price to pay for a clean bill of health. A lot of people thought that he had died of cancer. However, we can confirm that he is still very much alive.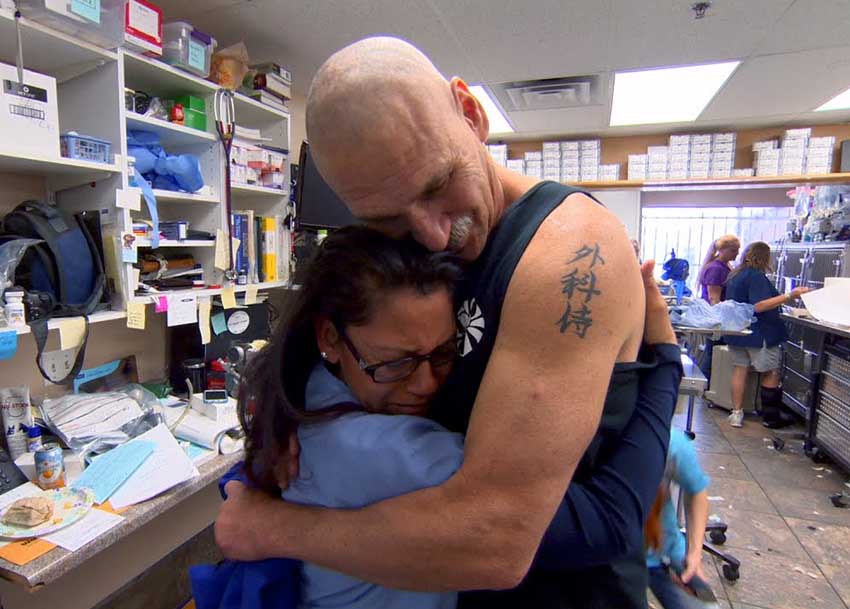 Dr. Jeff Young's Net Worth is $2 Million.
Dr. Jeff is still one of the favorite tv personalities for millions of vet show lovers. At present, Dr. Jeff Young's primary income source may be the salary he receives from the show, but, he has had a good-paying career long before he started working in showbiz. Adding up different income sources his net worth is estimated to be $2 Million as of 2020.
Originally posted on June 26, 2020 @ 9:46 am