Dr. Lauren Thielen is 35 years old American TV star and exotic animal veterinarian. She is famously known for her cast in her show on National Geographic cables named 'Dr. T Lone Star Vet'. This show displays her endeavors as she tries to save reptiles, birds, and all forms of unusual animals kept as pets in her hospital.
In this article, we are going to look into her career, how she came to have her hospital and TV show at such a tender age and exciting facts about her.
Dr. Lauren Thielen Wiki and her TV Career.
Dr. Thielen has a strong passion for exotic animals. To ensure that she gets the best skills, she joined a renowned exotic vet, Dr. Susan Kelleher. Lauren joined Dr. Susan's crew in 2013/14 as an intern. Dr. Susan also happened to be the host of 'Dr. K's Exotic Animal ER', a TV show on Net Geo World.
This show was filming the undertakings in Broward Avian and Exotic Animal Hospital located in Boynton Beach in Florida.
She also worked as an Avian and exotic care veterinarian at the Broward Avian & Exotic Animal Hospital, another facility under Dr. Susan.
All her time working alongside Dr. Susan, she got the opportunity to be featured on the show. Her love for the exotic, even intending to them on the show, was undeniable.
And this brought more fans to the show. She appeared on the show for the first time on 4th October 2014 and was cast for forty episodes. She was on the show for four years and left in 2018 and headed back to Texas.
Moving to Texas was on purpose; Lauren was bringing home what she had learned over the years.
She demonstrated her love for exotic pets by establishing her facility, a replica of what she had in Florida.
She started her facility and named it 'Texas Avian & Exotic Hospital' in Grapevine. In her facility, she prefers birds, raccoons, reptiles, and the sort and fewer cats and dogs.
Her dedication earned her an opportunity on the TV—her show 'Dr. T Lone Star Vet' premiered on 13th October 2019 and has run nine episodes with the last episode airing on 19th February 2020.
Her Leisure activities include Jiu-Jitsu, hiking, and traveling.
Education.
Dr. Thielen attended Fossil Ridge High School and finished in 2005. She then joined Midwestern State University for her pre-med program and was awarded her first bachelor's degree in 2009.
She then did veterinary medicine and graduated from Texas A&M College in 2013.
Then, Lauren went for her internship. After that, she did a two-year avian residency at Veterinary Center for Birds & Exotics in New York.
After Lauren's avian residency, she went back to Florida before establishing herself in Texas.
Age, DoB, and Family.
Dr. Thielen was born on 3rd August 1987, in Fort Worth, Texas. She is a US national by birth. Her mother's name was Gretchen, and she passed away in 2009 at the age of 49.
Her father is Steve. There is no information about him, and those of his other children. Dr. Thielen is currently 35 years old. Her Zodiac sign is Leo.
Dr. Lauren Thielen is Maried to Husband Sean Samaniego.
Dr. Thielen first met Sean Samaniego back in 2014. But their relationship did not last long. She later met Nicola Di Girolamo, who is interested in exotic animals and even a tutor at Oklahoma University. The two are still engaged, not married.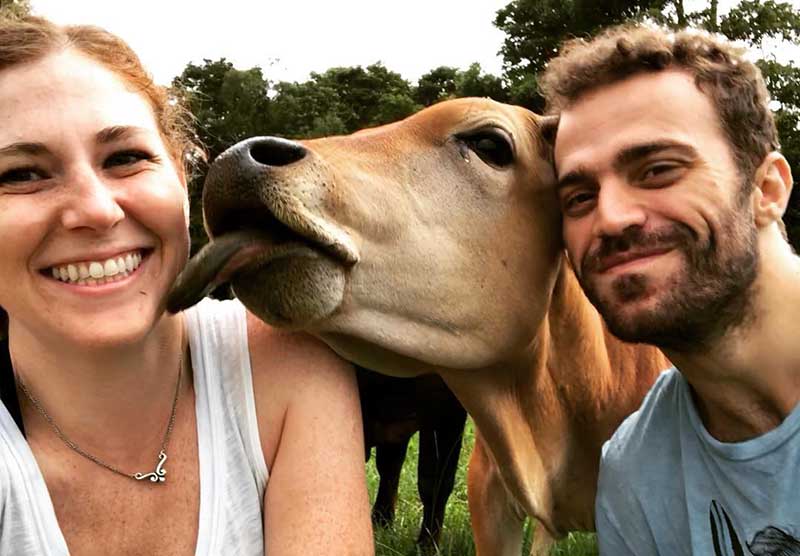 Membership.
Dr. Thielen is the marketing chair for the "Association of exotic mammal veterinarians" and a member of "American Veterinary Medical Associations."
Dr. Lauren Thielen's Net Worth.
Having been on the TV for close to a century, she has earned good money. Her net worth is estimated to be $1.5 million.
Social Media.
Dr. Thielen has an active Instagram account as "@dr.laurenthielen" with 48K followers. She also has a Facebook fan page with 32K likes.
https://www.instagram.com/p/BkaJjqan6Dk/
Dr. Lauren Thielen's Wiki-Facts.
| | |
| --- | --- |
| Full name | Dr. Lauren Thielen |
| Age | 32 years old. |
| Date of Birth | 3rd August 1987 |
| Place of Birth | Fort Worth, Texas |
| Profession | Exotic animals Veterinary Doctor, TV Star |
| Net worth | $ 1.5 million |
| Husband | N/A |
| Kids | N/A |
| Nationality | American |
| Ethnicity | Caucasian |
| Zodiac Sign | Leo |
| Parents | Steve and Grethen Thielen |
Originally posted on June 26, 2020 @ 10:05 am