Petra Mickova Young is a Slovakian American Veterinarian and TV star. She works with her husband at an animal clinic in Ridge, Colorado. Aside from just working together, the married couple is also featured in a TV show, Dr. Jeff: Rocky Mountain Vet. Dr. Petra is valued for her excellent surgical skills when dealing with her animal patients.
In this article, we are going to be setting our eyes on Dr. Petra Mickova Young. Who is she married to? Her career info, Age, and social media. Find out more details on the doctor and what show she is in.
Dr. Petra Mickova Wikipedia.
Dr. Petra Young was born in Slovakia, but she moved to America in her 20's. Later she went to a Vet Training School, where she ended up meeting her future husband.
There is not much information to give on Petra since she prefers to keep her life private. Working alongside her husband, she has to keep her marriage life separate from her work life. Dr. Jeff Young's wife Dr. Petra Micova's Wikipedia page does not exist.
Who is her husband?
Dr. Jeff Young was born on 14th April 1956 in Indiana. Jeff was raised in an animal farm. In his early childhood, he began caring for injured animals. Jeff graduated from Colorado State University.
After graduating, he worked as an animal welfare officer. This job enabled him to gain tons of experience. Currently, Dr. Jeff is estimated to have a net worth of $200k.
Dr. Jeff Young is known to have sterilized over 165k animals. He does his best to provide affordable service. In 1990, he founded Planned Pethood Plus. So far, he has already trained over 300 veterinarians and participated in many welfare projects.
Thanks to Animal Planet Network, Jeff and his wife have gained popularity on Television. Jeff Young won an Achievement Award in the Alex Lewyt Veterinary Medical Centre and at the El Grito 5K Humanitarian Award.
Her Marriage with Jeff Young.
Petra Mickova is currently married to Jeff Young. The couple first met in 2010 when Petra was still in her Veterinary School training. After getting to know each other well for four years, they finally tied the knot. Petra has not disclosed much information on her personal life.
Petra and Jeff have a huge gap difference, but that did not stop them from falling in love and getting married. They don't have any children together; however, Jeff Young has three children from his previous marriage.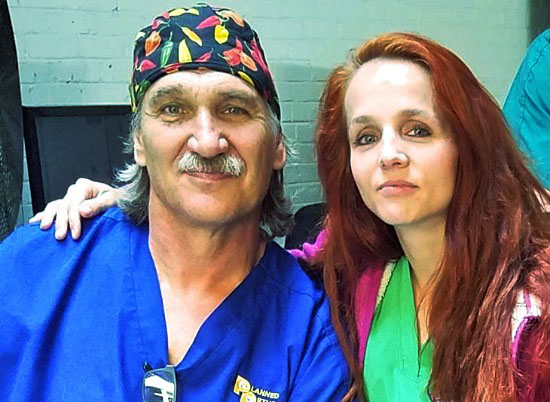 Dr. Petra Mickova's Net Worth.
According to various sources, Petra Mickova is estimated to have a net worth of $300k. She has accumulated this in her many years as a veterinarian. Dr. Petra has not given any details of her assets yet. As a veterinarian, she is estimated to make from $78,500- $96,000 a year.
Dr. Petra Mickova's Bio
Petra Mickova Young was born in November 1984 in Slovakia. She is currently married, but she does not have children with her husband. Dr. Petra is red-haired, and she is said to be 5ft 6inches tall. Dr. Petra is an Avid Reader and loves to learn new things daily.
Petra has not disclosed any information on her social media. We are hoping that she gives more information about herself someday.
Dr. Petra Mickova's Wiki-Facts.
| | |
| --- | --- |
| Full name | Petra Mickova Young |
| Age | 35 years old |
| Date of Birth | November 1984 |
| Place of Birth | Slovakia |
| Profession | Veterinarian, Tv Personality |
| Net worth | $300,000 |
| Husband | Jeff Young |
| Kids | 0 |
| Nationality | Slovakian |
| Ethnicity | Caucasian |
| Zodiac Sign | Unknown |
| Parents | Under review. |
Originally posted on July 1, 2020 @ 3:25 pm