Critter Fixer Veterinary Hospitals has unveiled its latest addition, a brand-new veterinarian hospital situated within the PetSmart store in Smyrna, Georgia. Co-founded by Dr. Vernard Hodges, DVM, and Dr. Terrence Ferguson, DVM, this PetSmart Veterinary Services (PVS) hospital is now open to welcome new pet patients, ensuring a combination of expertise and compassion for all their veterinary needs right at the convenient PetSmart location.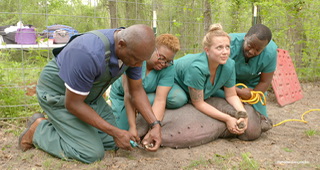 Heading this facility is Dr. Paul Norwood, DVM, who not only serves as the primary practicing veterinarian but is also a part owner of the hospital. Dr. Norwood, who completed his veterinary education at Tuskegee University School of Veterinary Medicine alongside Drs. Hodges and Ferguson, boasts over 25 years of invaluable veterinary experience.
The Smyrna location extends its services to a broad spectrum of pets, including cats, dogs, and specialty animals such as reptiles, birds, and small creatures. Their offerings encompass a wide range of services, from preventative and critical care to vaccinations, spay/neuter procedures, dental cleanings, and much more.
To mark this momentous occasion, a grand opening celebration is scheduled for Saturday, June 17, running from 11 a.m. to 4 p.m. The local community is wholeheartedly invited to join in and meet the dedicated team of veterinarians and staff while gaining insight into the full spectrum of services offered by PVS. As a token of appreciation, the first 50 attendees will receive a complimentary $10 PetSmart gift card, and the first 25 pets to arrive will be treated to a free dental evaluation.
Dr. Hodges expressed his enthusiasm, stating, "As a veterinarian for 25 years, this isn't something I ever imagined. I'm especially passionate about working with PVS because investment is a huge barrier to owning a practice. PVS' supportive financial model is a known and trusted brand that drives natural traffic to the clinic, which makes all the difference for veterinarians of color and new graduates starting out."
With five seasons of dedication to pet care, Dr. Hodges and Dr. Ferguson are committed to utilizing their platform to inspire the next generation of budding veterinarians. Through PVS, their objective is to create a lasting impact and offer diverse opportunities for veterinarians of color to assume leadership and ownership roles within their profession and communities.
John Bork, Senior Vice President of Vet Health Services at PVS, shared, "Our partnership with Dr. Hodges and Dr. Ferguson provides more opportunities for veterinarians to excel in their career and focus on what they love—caring for animals. PVS puts the power back into the hands of veterinarians, allowing them to own their practice inside a PetSmart location. We are excited for our continued work with Dr. Hodges, Dr. Ferguson, and their teams to expand PVS locations as well as encourage the industry to create an inclusive environment that is supportive of doctors and the pets they care for."
In an exciting development, Dr. Hodges and Dr. Ferguson are poised to open a second PVS location this summer at the PetSmart store in Warner Robins, with further locations to be announced in the near future.
About the show
"Critter Fixer" is a heartwarming TV show featuring veterinarians Dr. Vernard Hodges and Dr. Terrence Ferguson as they provide expert care to a diverse range of animals in rural Georgia. The show combines veterinary drama with personal stories, highlighting their friendship and commitment to diversity in the profession. It educates viewers about animal health and the importance of responsible pet ownership while inspiring future veterinarians. In a rural setting, the duo cares for everything from cats and dogs to livestock, making it an engaging and educational show for animal lovers.