Dee Thornell is a veterinary officer, businesswoman, and reality television star. She is renowned for featuring on the show 'Dr.Dee: Alaska Vet.' Long before we were graced with her presence on screen, Dee was running around in her pickup truck and offering veterinary services to the locals in Alaska.
Interestingly enough, Dr. Thornell first came to Alaska about 38 years ago. She was brought on to help with the delivery of a fowl. Remarkably, she has remained in the state ever since. Learn more about Dr. Dee, her show, and her veterinary clinic in the following review.
Dr. Dee Alaska Vet Cancelled?
Dr.Dee: Alaska vet is an Animal Planet sponsored series that follows the work of Dr. Dee, her husband, and the army of vets that work with them. Viewers get to watch as Dr. Thornell and her husband tour some of the most remote villages you could ever imagine.
They are particularly renowned for championing affordable spay and neutering services to not only control the animal population but also to improve their living conditions. Other than this, fans of the show additionally get to watch as Dr. Dee offered free veterinary services to the local animals in need.
She typically goes around the great state of Alaska collecting dogs that have been abandoned and bringing them back to Fairbanks, where they get the chance to meet prospective families.
The very first episode of the series premiered back on November 7th, 2015. It was titled 'Taking Flight.' The debut episode followed Dr. Dee as she set out to help an old border collie and a Siberian husky that was weighed down by a disability.
In total, Dr.Dee: Alaska Vet went on to release two seasons. The very last episode was aired on October 1st, 2006. There hasn't been another episode ever since, which leads us to believe that the show was discontinued.
Fans can still, however, tune into the Animal Planet to watch all of the greatest hits. These include episodes like Raging Bull, where fans gasped as Dr. Dee tried to help a dog with tumors. Other titles like '40 snakes and counting' also saw Thornell and her team perform a three-hour surgery in order to save the life of a dog that was on the brink of dying.
Dogs are not the animals that Dr. Dee has had the pleasure of dealing with on-screen. We have also watched her treat horses, calves, and even a black bear at some point!
What is Dr. Dee Thornell doing now?
After she took a backseat from television, Dr. Dee decided to dedicate most of her time at the Animal House Veterinary Hospital. For several years now, the hospital has been front and center in Alaska, providing various veterinary services throughout the state.
The clinic regularly conducted wellness tests on the local pets and even offered grooming and boarding services for those in need. Undoubtedly, the clinic's main draw is Dr. Dee Thornell.
Her fame and reputation bring people to the clinic. Because of this, Dr. Thornell regularly avails herself on-site in case of any emergency. She is a surgeon at heart and always open to performing life-changing procedures when the need arises.
Due to the COVID-19 Pandemic, however, Dr. Dee and her clinic can only offer services from the hours of 8 am to 3 pm. People also have to be escorted in and out of the facility.
https://www.instagram.com/p/BIc4Vm0Drx9/?hl=en
Dr. Dee Thornell is married to husband Kenneth Rodriguez and Kids together.
Dr. Thornell and her husband Kenneth met more than 15 years at the time. At the time, Dee was in need of a handyman. In stepped Kenneth, who not only fixed an issue in her kennel room but also stole her heart.
They found little moments of romance while undertaken some of the most unromantic tasks you could imagine. While Dee was placing an enema up a troubled cat, Kenneth chose that moment to wink at her.
It hinted at the quirky and funny romance story that awaited them. Kenneth finally made his move while Dr. Thornell was on her loader, sorting out her horse pasture. The two started dating shortly after then.
Dr. Dee's husband Kenneth is a remarkable man. He worked as a maintenance officer across several different buildings scattered across Alaska. In his free time, Kenneth would also take flying lessons, venturing across the remote regions of the state.
The turning point in their relationship came once Dee introduced Kenneth to the rest of her family. Her father approved, which came as a pleasant surprise as he typically disliked all the other men that Dee had brought home! It was easy to see why Dr. Dee's family fell in love with Kenneth as well. He dedicated a decent amount of time to helping out Dee at the clinic. He regularly fed the donkeys, goats, and even the horses.
A year after they met, Dee and Kenneth decided to build a house together. The thought behind it was simple; if they could get through this strenuous project together, then it would prove that they were ready for a much bigger challenge. In 2007, after the house was completed, Kenneth and Dee got married on their deck, and they have been together ever since.
As far as their children are concerned, we learned that Dr. Dee has a son, Jesse, with her first husband, Chuck Sanderson. Jesse is 26 years old at the moment.
Dr. Dee explains why she became a veterinarian.
Dee's decision to venture into veterinary medicine was inspired by her brother, Dickie. Growing up, Dickie was the one who aspired to venture into veterinary medicine. Like most of the other girls during that era, Dr. Thornell thought that her main focus would be to raise a family.
Her older brother regularly volunteered at the local animal clinic. Since the two of them were close, Dickie would spend a great deal of time telling her everything he did that day. Dickie, unfortunately, would never get the chance to pursue veterinary medicine. He was drafted into the Vietnamese war, which eventually resulted in his death.
In an interview, Dr. Dee Thornell said that she knew that her brother had passed on even before the military confirmed the news. Dickie's death inspired Dee to pursue a career as a vet to honor his memory. It was a decision that her father wholeheartedly supported, evident by the fact that he bought her a host of different animals as she was growing up.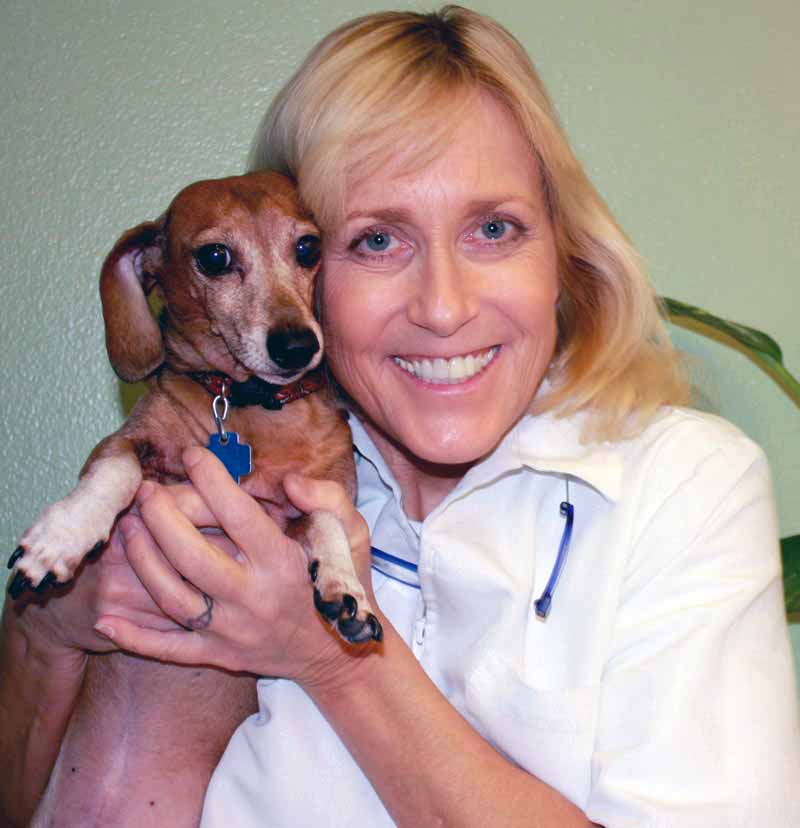 Her story on how she became a Vet.
Dr. Dee Thronell learned veterinary medicine for five years at the Michigan State College of Veterinary Medicine. After this, she furthered her education under the guidance of an ER doctor over at Lancing. She worked as a resident for the Waverly Animal Hospital. Her time at the clinic was fast-paced. She was on call both day and night, the latter necessitated by emergencies.
Dee finally got a break from the rigorous schedule when she got the opportunity to venture deeper into Alaska, where she finally set up her own practice.
Dr. Dee Thornell's Wiki-Facts.
| | |
| --- | --- |
| Full name | Dr. Dee Thornell |
| Age | 62 years old. |
| Date of Birth | 29th July 1958 |
| Place of Birth | Ohio, USA |
| Profession | Former Television Personality, Veterinary Officer, Entrepreneur |
| Net worth | $2 million. |
| Husband | Kenneth R. Rodriguez |
| Kids | 1 |
| Nationality | American |
| Ethnicity | Caucasian |
| Zodiac Sign | Leo |
| Parents | Under review. |
Originally posted on October 9, 2020 @ 4:46 am