Dr. Jeff Young is among the most celebrated veterinarians in the world. He is the founder of Planned Pethood Plus, the animal clinic founded in Colorado's Rocky Mountains. He became well-known for his appearance in Animal Planet's show Dr. Jeff Mountain Vet.
Jeff, who is a prominent cast member of the show, recently shared that he may or may not come back on Television. So, what's the reason behind it? Let's find out what he is doing at the moment.
He Was Regular On Dr. Jeff Rocky Mountain Vet
Dr. Jeff Rocky Mountain Vet is one of the most-watched TV shows, released for the first time in 2015 on Animal Planet. Since then, the show has been everyone's favorite. Jeff and his crew have saved the lives of many wild animals and pets.
The Veterinary doctor with the Planned Pethood International staff takes on challenging treatments and works countlessly to care for pets and wild creatures who need their medical attention.
In the premiere of season-8, Dr. Jeff, his spouse Dr. Petra Young Mickova, and vet tech Hector went to Leadville, an old silver mining town in Colorado. They had an inspiring objective to turn an old restaurant into a new clinic so that they could offer immediate vet treatment to remote mountain communities.
The crew's caseload includes the animal kingdom, including a raccoon hurt in an unlawful trap to a small gecko with a surprising discovery. Jeff looks after a puppy who requires reconstructive surgery to live, whereas Dr. Baier (who was also a veterinarian in Jeff's clinic) helped a wild goose to remove a fishhook.
Dr. Jeff Young Remarks He Might Not Return On Television
"Dr. Jeff Rocky Mountain Vet" fame Jeff is a fans-favorite from the show. He, alongside his team, promotes the spaying and neutering of animals, as well as spreading the idea of adopting don't shop.
Young's show is currently on its eighth season on Animal Planet. But, the team is currently not filming, and they are still not sure if it will be on Animal Planet or not.
Through the FB official page of Planned Pethood International, Jeff shared that he learned a lot of things while working on the show, and he really appreciates his fans for their support.
He also replied to his fans' queries on when he is going to be back and how he is gonna be back on the show. As per the vet, he is never gonna go away for sure, but he has no idea if he is going to be back on the television. Also, he added that the time might or mightn't come.
What Dr. Jeff Is Doing Now?
Jeff Rocky is currently absent from his long-running show, Dr. Jeff Mountain Vet. So, there have been many fake rumors regarding his demise that are spreading on the internet.
Being a public figure, one must face such death hoaxes time and again, and Rocky has also experienced the same. Most of the time, such celebrity death hoaxes appear from nowhere and without any reason. To everyone concerned about Dr. Jeff, he is still alive and doing well.
Dr.  Jeff clears the rumor about his death
On 22 January 2023, the doctor posted another video on the official Facebook handle of his clinic and delivered a special message to his fans. Also, he cleared out the rumors of his passing and requested his admirers to ignore such false reports.
Jeff remarked, "Well, rumors are there on the internet, I think I have died for the fourth time now, but I'm not retiring. I'm not there, and my health is excellent."
At the same time, many were also concerned about his clinic closing down. So, Rocky clarified through his video that they need the clinic to close down, but it will start in a new location the very next day, open and ready to go.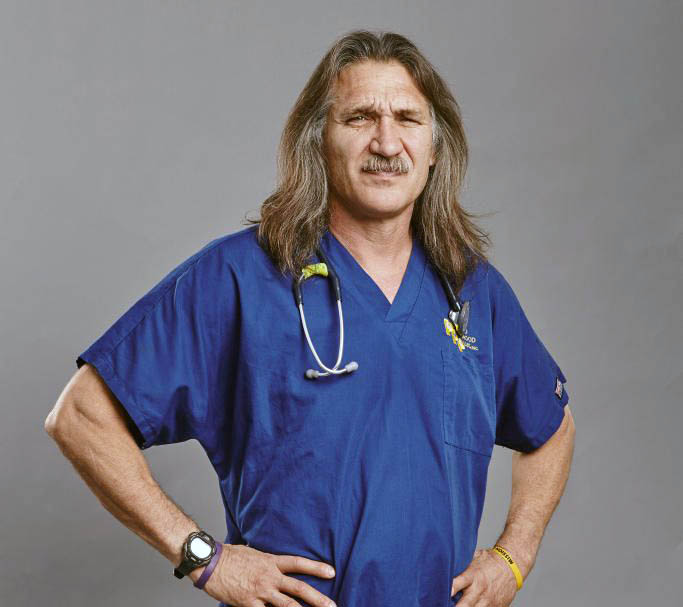 According to Jeff, they are shifting their clinic to a suitable location which will be great for surgical training for young vets, new graduates, and vet students. They are taking this step to make a difference in veterinary medicine. The Vet also stated that he would never retire or tire of his work.
For now, he has started a YouTube channel under the title "Dr. Jeff The Rocky Mountain Vet," which has already obtained over 1.98K subscribers with 17 videos. One can follow his YouTube journey to be updated about his current activities and get knowledge about the future of Veterinary Medicine.
Some Quick Facts On Dr. Jeff Young
Full name
Jeffrey Dale Young
Age
67 years old (as of 2023)
Birth date
14 April 1956
Place of birth
Indiana, USA
Nationality
American
Profession
Veterinary
Spouse
Deb Burns (divorced)

Petra Yong Mickova (present)